Main Info
This trip is excellent for nature lovers who want to experience the thrilling fascination of walking through large pandanus and palm trees.
Depert from your Hotel at 9 o'clock.
The Jozani forest, a natural reserve, lies 35 km South East from Zanzibar City between Chawaka Bay and Uzi Bay.
The only remaining natural forest of Unguja covers an area of 10 square km. The forest, with trees older than 100 years, is the sanctuary for some very interesting animals, including the Red Collobus monkey, the small Zanzibar leopard, blue monkey, chameleon, mongoose, bush baby, tree hyrax, bush pig, civet, and two small antelope species found only on Zanzibar, Zanzibar duiker and sunni.
Pickup Location
Your Hotel
Pickup Time
We arrive by 8:40 AM for a prompt departure at 09:00 AM
Return Time
Approximately 12:00 PM
Included

Mineral Water
Tour Guide
Entrance Fees
All transportation in destination location

Excluded

Travel Insurance
Tips & Gratitude
Itinerary
Half Day - Jozani Chwaka Bay National Park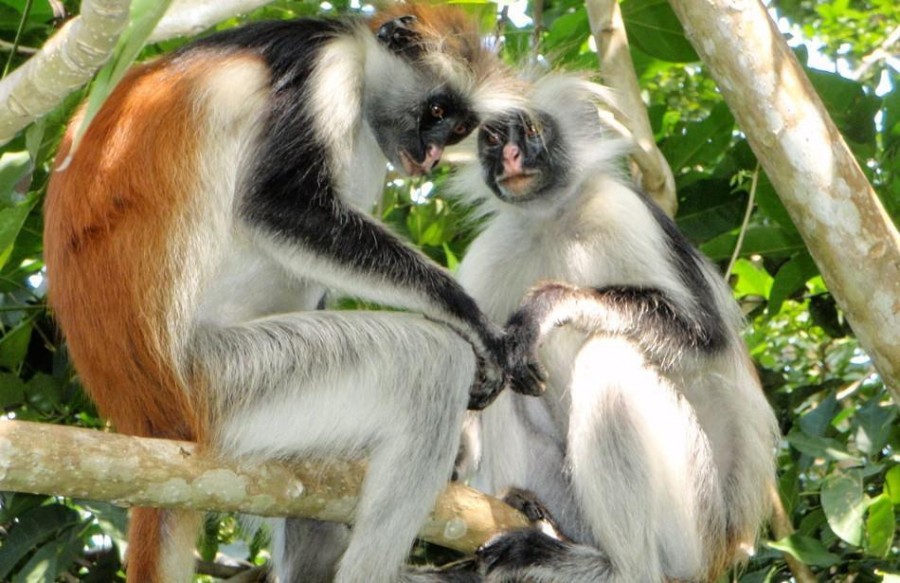 Jozani Chwaka bay national park or shortly Jozani forest is Zanzibars only national park, and although quite small, 50 square km only, it's bursting with life in all its forms.
Amazing sky-high trees, mangrove areas, and the Medicine jungle are a tranquil home to rare red Colobus monkeys and even rearer, hard to spot endemic Zanzibar Sykes' monkey, two endemic antelope species, Zanzibar leopard, blue monkeys, chameleons, mongoose, tree hyrax, bush pigs, civets, 50 different species of butterflies and 40 species of birds.
Jozani forest is also a natural pharmacy, an amazing source of natural remedies! Every tree or plant cures something. Your experienced guide will lead you through the network of paths and give you some surprising information on the plant's use. The path will lead you through the mangrove habitat, where you can easily spot some fish and crabs.
A trip to Jozani forest will recharge your batteries to proceed to another adventure.
Maps